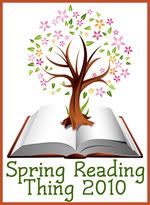 It's Spring! This season brings many happy things, including my birthday and my 3rd reading challenge for the year,
The Spring Reading Thing
, hosted by Katrina at
Callapidder Days
!
The goal of this reading challenge is to focus on completing a list of books/goals you have for the spring, and it's really laid-back and relaxed (I
love
that!). So, without further ado, the list of books I want to complete between now and June 20th:
These are really going to depend on how quickly they come in from the library and how busy my life gets, so there may need to be some adjustments. But for now, I think it's looking pretty good!