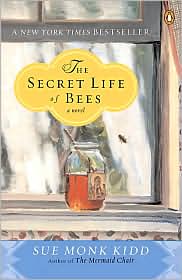 Let's start my review of the books I've been reading in 2009 with my new favorite:
The Secret Life of Bees
by Sue Monk Kidd. Remember that I didn't jot down any notes or anything while I was reading these, and it's been awhile since I've finished them, so I can't remember a lot of details, but I think I can remember enough to give you a fair review.
This was a book I was hesitant about reading. I don't know why, but anything that gets popular too fast is a turn off for me, but if I ever do come around to it, I end up loving it with everyone else (take Twilight, for instance). This book was no exception. My mom lent me her copy with her firm suggestion of reading it, and it didn't take me long to start, and then even less time to realize I couldn't put it down.
This is the story of Lily Owens, a Southern girl living with the guilt of her mother's death and the harshness of her unloving father during America's turbulent 60s. While trying to find her own path (and running from the law) she stumbles upon three black, beekeeping sisters, who teach her more than she bargained for.
Kidd does a wonderful job with the writing. Before each chapter she has an excerpt from different books giving details about bees and their culture, each a tiny glimpse into what awaits in the following chapter. The voice is spot-on and Lily's character is smart, lovable, and completely real. The sisters she meets are exactly who they should be; no other set of characters could have done a better job of guiding Lily to her ultimate realizations.
I loved this book, and therefore I give it 5 out of 5 stars, and I would definitely read it again (which is the biggest complement I can give a book). If you're looking for a good book to just pick up and get lost in, this is it.